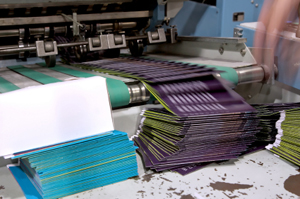 Product and Service Capabilities
We're always a little timid when asked to spell out our capabilities because we are afraid that we may miss something that is of importance to you - and things in our industry and our company are changing almost daily! The products we produce are so diverse in nature that it would take many more pages than you would wish to read to cover all of the possibilities. We produce business cards as well as bound books, envelopes as well as annual reports, sales literature as well as order forms, brochures as well as letterheads, and the list goes on ad infinitum. Need your project put on CD's or DVD's?- We can do that too, from one to thousands.
If you can dream it, we can print it!
So, that said, to paint it with a broad brush, Commercial Printing is a sheetfed offset/digital printer that has invested millions of dollars to make available to our clients complete in-house design, layout, typesetting, electronic prepress, proofing, single color to full color printing, digital and variable data printing, binding, finishing, warehousing, fulfillment and delivery services. Basically, if you can dream it up, we can print it, and if we can't do it and do it well, we'll be the first to say so and send you on your way with a reference in hand for someone who can address your specific or unusual needs. The most elementary, hard to learn, principle of a successful printing company is that no one can be all things to all people, and those who try are destined to fail themselves and their clients.
The U. S. Department of Labor predicts that the job classification of "Proofreader" will be the third most likely to experience decline in the next few years. Well, not at Commercial Printing Company! We know that the value-added services of a professional proofreader is important to our clients. We are among the few commercial printing firms to employ full-time proofreaders. Computer "spellchecks" just don't do the job of a trained professional proofreader - just ask some of our clients who often compliment our proofreading as having saved them time, embarrassment and more than a few dollars! While we proofread every word that we typeset in-house as a matter of course, we can do the same with your files if you will submit a "hard copy" and let us know that you wish us to proofread prior to production. We cannot guarantee that all errors will be caught, but we know from decades of experience that the author and/or the keyboarder often see what they expect to see rather than what is actually there! Whether we find "typos", inconsistencies or missing elements, the small additional expense of proofreading your files by a trained professional will give you peace of mind that your files are much more likely to be complete and accurate.