Color Banner Printing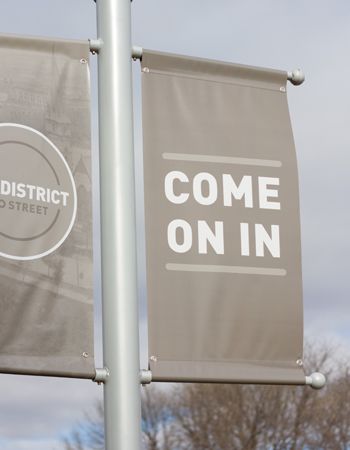 Custom Full-Color Banners in Raleigh, NC
Looking for a quality printed, full-color banners in Raleigh, NC? Look no further! At Commercial Printing Powered by AlphaGraphics, we're here to help you with design, printing, and shipping of your next outdoor vinyl banner project. Color banners are perfect for churches, schools, non-profit organizations, businesses, food trucks, conferences and farmer's markets. We work with clients every day to make sure their banners are properly designed to make sure your next banner project makes a huge impact!
Types of Materials for Banners
We offer a wide variety of banner materials to fit your next banner project. Whether it's being used indoors or outdoors, we have a material that will make your next event a success!
Here are a few types of banner material we offer:
Vinyl Banner Material
Mesh Banner Material
Indoor Banner Material
Gloss Banner Material
Matte Banner Material
Fabric Banner Material
Pull Up Banner Material
Fire Proof Banner Material
Uses for Color Banners
There are many types of uses for color banners. Our team of graphic designers will work with you to make sure we create a banner that delivers your powerful branding message. Some of the uses include:
Advertising

Backdrops
Birthdays
Church Picnics
Flag Banners
Outdoor Events
Graduations
School events
Trade shows
Weddings
and more!
More Than Just Banners
At Commercial Printing Powered by AlphaGraphics, we can help you take your branding statement to the next level. Why not compliment your next banner project with a full-color brochure? Take a look at our brochure page and give us a call. Our team is waiting to help make your next event a success!