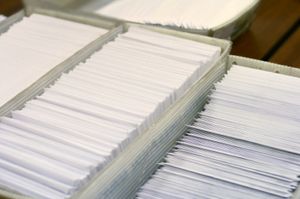 Mailing Services in Raleigh
Mailing Services in Raleigh
Commercial Printing Powered by AlphaGraphics is Raleigh, North Carolina's premier mailing services provider. With over 120 years of experience, we understand the importance of direct mail services and working with the United States Postal Service. Our team of professionals work with clients every day to design, print and mail their marketing projects on time and on a budget. Not only are we the leading mail shop in Raleigh, but we serve clients throughout the United States. With powerful ink jetting technology, variable technology, and the state-of-the-art printing technology, we execute mail services seamlessly from start to finish. As your go-to direct mail service provider, our experienced team will guide you through the marketing mail process.
Direct Mail Processing
As the leading mailing and fulfillment, we provide a variety of services for our direct mail clients. Whether we are printing your mail pieces or simply fulfilling your kit requests, our team is equally dedicated to your next project. Some of our services include:
Data Processing and Postal Qualifications
Laser Printing
Ink Jet Imaging
Inserting
Tabbing
Folding
Kitting
Hand Work
Bulk Mail Entry
Palletization
and much more!
Mail Piece Design
Our team of experts works with the United States Postal Service every day to make sure mailpieces qualify for bulk mail discounts. Mailpiece design is an extremely important part of our job so that we can help our clients avoid costly mistakes. Rules and regulations change every year so it's important to stay on top of those specific changes. Additionally, with proper mailpiece design, we help our clients achieve the lowest postage rates possible.
Postage Options
There are a wide variety of postage options and a few of them include:
First Class Mail (Non-Automated) Postage
First Class Mail (Automated) Postage
Marketing Mail (Non-Automated) Postage
Marketing Mail (Automated) Postage
Metered Mail Postage
Return Service Service Postage
Are you ready to get started on your next direct mail project? Contact our Raleigh team to learn how our mailing services will help you save time and money!