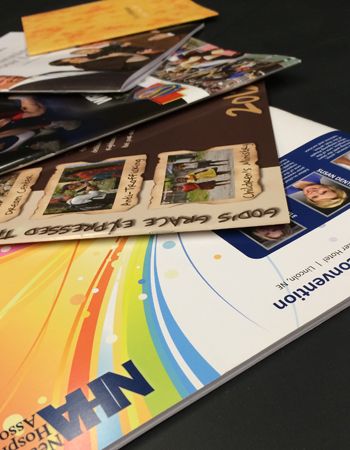 Brochure Printing in Raleigh
A business brochure is a great way to communicate key messages to your audience about your products and services. We serve local and regional clients who are looking for professionally produced offset print brochures and digital print brochures. In addition, our brochure folding options include (but are not limited to):
Bifold brochures
Trifold brochures
Quad-fold brochures
Gatefold brochures
V-fold brochures
Accordion brochures
Brochure Design
Our graphic design experts in Raleigh design your brochure with your business and brand in mind. It's important to maintain your marketing objectives when printing brochures and our team understands your goals. Our professional designers understand how to translate a beautiful design on the screen to the printing process. Contact us today to learn how we can elevate your next brochure design.
Brochure Mailing
Are you trying to expand your reach and win more clients? Why not try mailing your brochures in a direct mail marketing campaign? As a full-service print and mail service provider, our mail shop will help you design, print and mail your brochures to a targeted list. With the right list and a beautiful design, you'll blow your competition away!
Brochure Types
Trifold Brochures
Bifold Brochures
Real Estate Brochures
Marketing Brochures
Oversize Brochures
Gloss Brochures
UV Coated Brochures
Ready to get started? Give our friendly Raleigh team a call today and let us help you with your next brochure project. You may even want to consider some flyers as well.