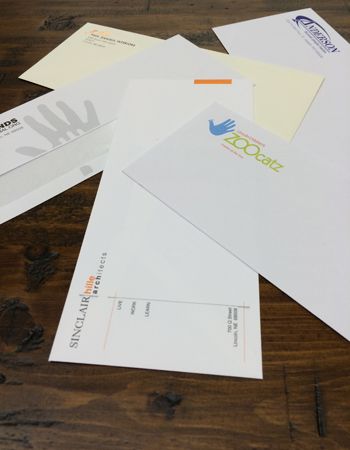 Envelope Printing in Raleigh
Nothing makes a more positive impact on your brand than custom printed envelopes. When you mail checks, send client correspondence or other marketing materials why not do so with custom envelopes printed by Commercial Printing Powered by AlphaGraphics in Raleigh, North Carolina? Our state-of-the-art printing technology allows us to print one color, two color, three color or full-color envelopes. We offer offset envelope printing as well as digital envelope printing so we can produce long runs and short runs while meeting your time and budget constraints.
Envelope Design
Our professional graphic designers in Raleigh will work with you to create a custom logo or envelope layout that will be sure to grab your customer's attention! We use the latest design layout software to create crisp, clean and modern designs. Once you meet our friendly and knowledgeable team, you will know why clients come back for additional graphic design services.
Full-Color Envelope Printing
With the addition of modern technology, our Raleigh production facility produces beautiful full-color envelopes in all shapes and sizes. Why limit yourself to only one or two colors when we can print short-run digital full-color envelopes. Call us today to learn more or to ask for a sample envelope.
Variable Data Envelopes
Utilizing the latest digital envelope printing technology, we produce variable data envelopes that are perfect for your next event, wedding or direct mail project. Our in-house mailing services allow us to utilize the variable data addressing while maximizing your postage budget. As a mail house in Raleigh, we understand the importance of variable data and will work with you to achieve the best results.
Standard Envelope Types
#10 Regular Envelopes
#10 Window Envelopes
Catalog Envelopes
Booklet Envelopes
Remittance Envelopes
A7 Envelopes
A6 Envelopes
A2 Envelopes
Ready to get started on your next envelope project? Give our friendly Raleigh staff a call and we'll be happy to guide you through your next design, print or mail project!