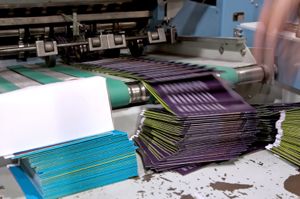 Design, Print & Mail
We're always a little timid when asked to spell out our capabilities because we are afraid that we may miss something that is of importance to you - and things in our industry and our company are changing almost daily! The products we produce are so diverse in nature that it would take many more pages than you would wish to read to cover all of the possibilities. We produce business cards as well as bound books, envelopes as well as annual reports, sales literature as well as order forms, brochures as well as letterheads, and the list goes on ad infinitum. Additionally, our large format printing capabilities include banners, yard signs, vehicle wraps, vehicle lettering, fleet graphics, trade show displays, interior signage and so much more!
If you can dream it, we can produce it! We work with clients to create beautiful, custom print and marketing projects every day. As a full-service mail house, we also offer mailing services to help streamline your project and achieve great postage rates.
Commercial Printing Powered by AlphaGraphics is a sheetfed offset/digital printing company located in Raleigh, North Carolina. We invest heavily in technology and offer a wide range of products including graphic design services, layout, typesetting, electronic prepress, full-color color printing, digital and variable data printing, binding, finishing, warehousing, fulfillment and delivery services. We work with clients throughout the United States to help deliver powerful printing and marketing solutions that create an impact for their brand. Contact us today to learn how we can help you with your next design, print, large format or mailing project.
Quality Printing in Raleigh, NC
Services